Top of page
AuroraMAX observatory
AuroraMAX makes it possible to watch the northern lights in high definition, broadcast live from the Canadian North, during the aurora season, between August and May.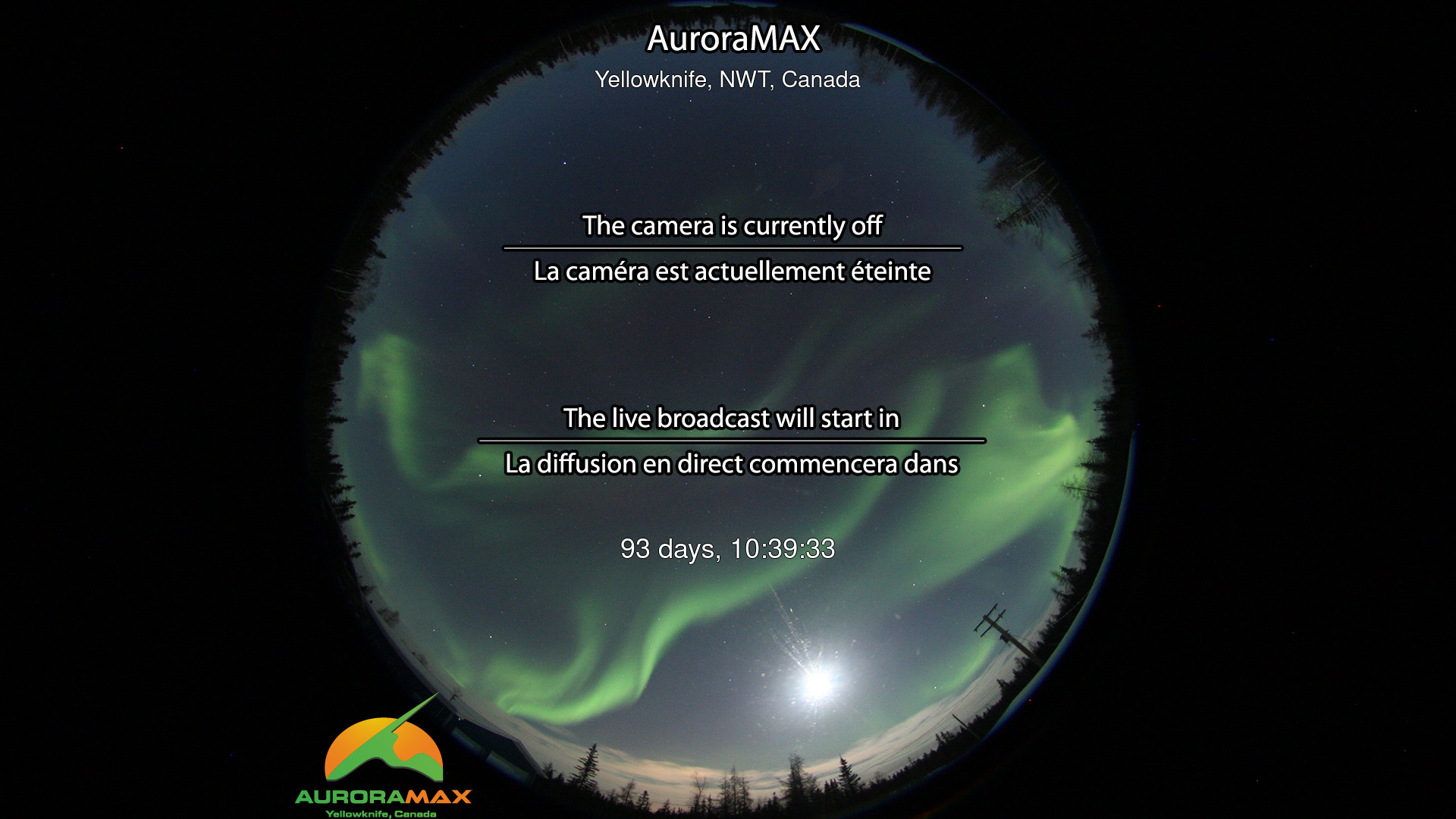 AuroraMAX is a Canadian aurora observatory. By means of a ground camera in Yellowknife, Northwest Territories, you can see the aurora from the comfort of your home.
The camera turns on automatically as soon as the Sun sets in Yellowknife during the aurora season. The countdown timer shows how much time is left until the broadcast starts.
Why are AuroraMAX images round?
Imagine that you're lying on your back and you can see everything around you. That is what AuroraMAX shows you.
AuroraMAX's main camera is an all-sky imager. It shoots a 180-degree field of view, which produces circular images that show the entire night sky. The circumference of the circle is actually the horizon all around the camera. If you look carefully, you will see the tree tops even in the upper portion of the image.
AuroraMAX: more than just a camera!
AuroraMAX is a public outreach initiative that aims to raise awareness of:
the northern lights and their beauty
the science behind the auroras
how solar activity can affect our daily lives
AuroraMAX is a collaboration between four partners:
The University of Calgary provides technical and scientific support for AuroraMAX. Led by space physicist Eric Donovan, the University of Calgary team developed and operates the world's foremost network of auroral cameras, including AuroraMAX.
The City of Yellowknife hosts the AuroraMAX Observatory and uses magnificent images from AuroraMAX to promote aurora tourism.
Project management for AuroraMAX is led jointly by the Canadian Space Agency at the national level and by Astronomy North (a society dedicated to northern sky education and awareness) in northern regions.
The AuroraMAX logo, designed by James Pugsley of Astronomy North, symbolizes the cause-and-effect relationship between our star and our planet. A prominent green spike represents the changing nature of the aurora, set against the powerful source behind the solar wind—the Sun.
Location: Yellowknife, NWT
Longitude: 114°21'W
Latitude: 62°26'N
Main camera: Colour all-sky imager
Additional cameras: Two digital SLRs
Lens: 180° fisheye
Shutter interval: 0.00 seconds
ISO: 500
Aperture: f/2.8
Exposure time: 5 seconds
The image is refreshed every 10 seconds.
Follow AuroraMAX on social media
Explore further