The Northern Lights
Auroramax, Yellowknife, Canada
What are the northern lights?
Auroras are natural displays of light in the sky that can be seen with the naked eye. Auroras occur when charged particles (electrons and protons) collide with gases in the Earth's upper atmosphere, producing tiny flashes that fill the sky with colourful light. As billions of these tiny flashes occur in sequence, the lights appear to move or "dance."
In the northern hemisphere, the lights are named aurora borealis, or northern lights, while in the southern hemisphere they are called aurora australis, or southern lights.
WATCH THE NORTHERN LIGHTS LIVE IN YELLOWKNIFE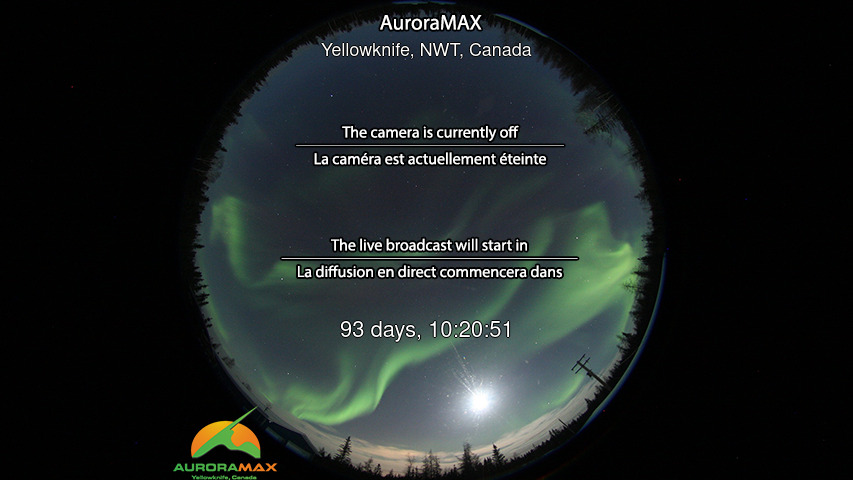 Credit: Canadian Space Agency
AuroraMAX replay
Credit: Canadian Space Agency
DID YOU KNOW?
Fact number 1
A coronal mass ejection is an ejection of energetic plasma from the Sun that can travel at speeds up to 10 million kilometres an hour.
Fact number 2
Solar storms can disrupt radio transmissions, disable communications satellites, cause GPS systems to malfunction and even lead to power outages like the 1989 blackout in Quebec.
Fact number 3
The solar wind flows from the Sun out into the solar system past Pluto.
Fact number 4
Since the International Space Station orbits at almost the same altitude as the auroras, astronauts on board see auroras at eye level.
Fact number 5
Our atmosphere protects us from solar radiation on Earth, but aircraft crews on transpolar flights and astronauts receive higher doses of radiation during intense solar activity.
Fact number 6
The Earth's magnetic field reaches thousands of kilometres out into space.
Fact number 7
Auroras can also be found on other planets. Jupiter and Saturn both have auroral ovals on both hemispheres. Venus, Uranus and Neptune have irregular auroras.
Fact number 8
Auroras typically occur between 100 and 300 km in the atmosphere, but can sometimes stretch as high as 600 km.
Fact number 9
Launched in 1962, Alouette-1, Canada's first satellite, made our country the third nation in space. Alouette-1 studied the ionosphere, the electrically charged layer of the upper atmosphere that can affect long-distance radio transmission.
Science is beautiful
Date modified: